The project dubbed "The strengthening knowledge and action on Atewa forest's significance for protecting globally threatened tree species, critical ecosystems, and ecosystem service provision project" to be implemented in and around the Atewa Range Forest reserve seeks to increase knowledge on 19 targeted threatened and near-endemic tree species.
Threatened trees
These threatened target trees are being lost due to illegal activities reported to be present within the Atewa Forest. These species include Abaku/Baku (Tieghemella heckelii), Duatadwekese (Aubregrina taiensis) and Dodo-wa (Cola boxiana).
The launch
The official launch of the project which took place on Thursday, August 17, 2023 at the Abuakwa South District Assembly Hall, saw  stakeholders from the MMDAs (Abuakwa South, Atiwa West and Fanteakwa South), Academia (University of Environment and Sustainable Development, University College of Agriculture and Environmental Studies), Regulatory Agencies (Forestry Services Division, Cocoa Research Institute of Ghana), Traditional Authorities from the project communities (Obuoho, Potroase, Owuretwum, Sagyimase, Apampatia and Dompem) and the PGRRI gracing the occasion.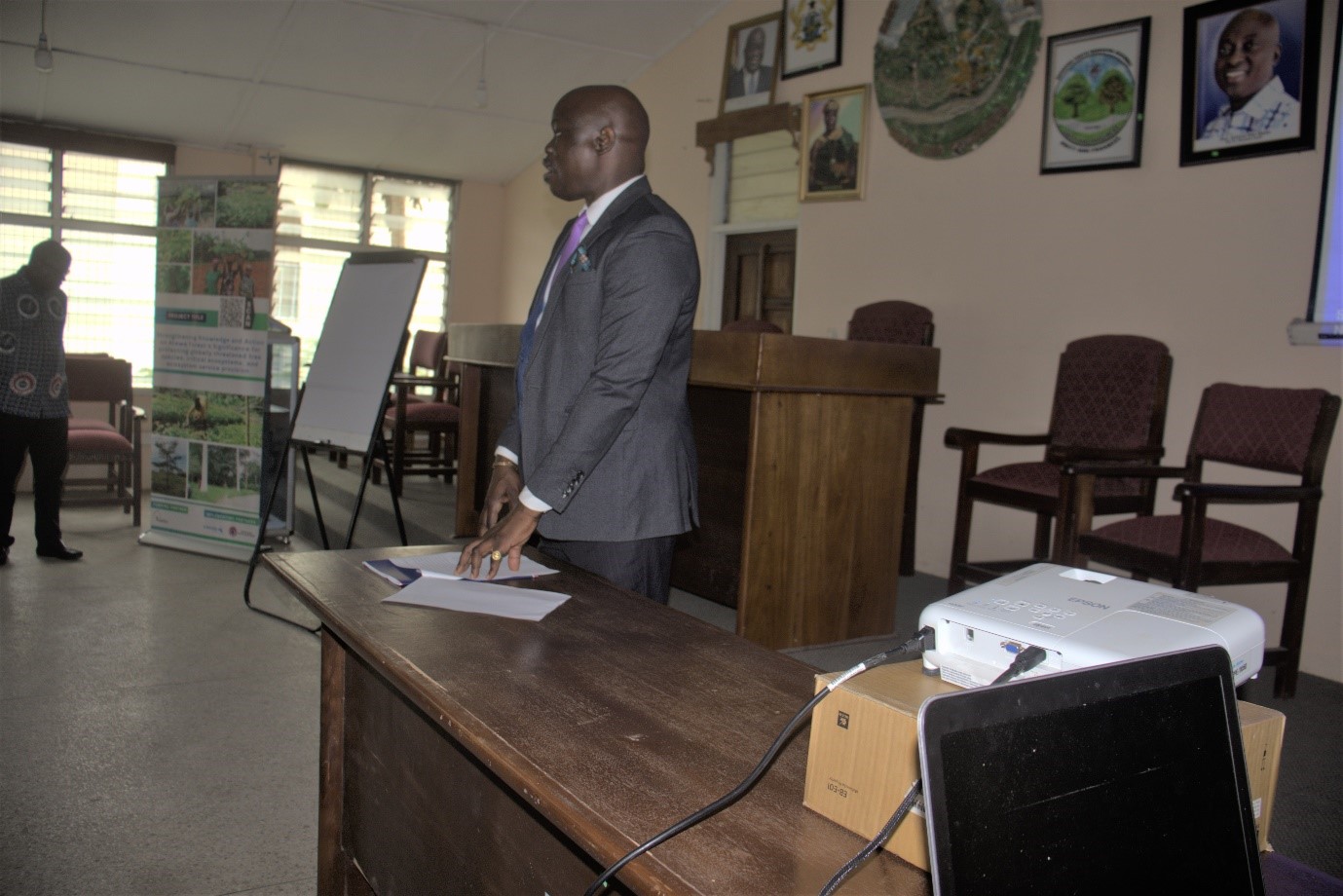 In a welcome address, Director for CSIR-PGRRI, Dr. Daniel Ashie Kotey , highlighted how some near endemic species such as Tieghemella heckelii locally known as Abaku/Baku are gradually being lost due to illegal activities. He stressed on the importance of the project and commended the collaboration between A Rocha Ghana and the PGRRI.
Dr. Kortey entreated participants to contribute and ask for clarification on issues that they did not understand for the success of the implementation.  
Speaking at the launch, Mr. Isaac Ayamga, a representative from the Abuakwa South Municipal Assembly acknowledged the municipality is faced with several challenges including illegal mining, logging and bad farming practices which has led to a lot of species facing extinction. He thus commended the initiative and also the partnership with the PGRRI and the Forestry Commission.